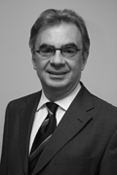 Director's welcome
Welcome to the Bilkent University, School of Applied Technology and Management!
Inaugurated in 1988 with one program in the area of tourism and hospitality, the School today comprises three departments:
- Tourism and Hotel Management
- Information Systems and Technologies
- Business Information Management
The School's mission has always been excellence in forming young professionals for the industries that have shaped the World's economies for the last two decades and will continue their leadership positions for many years to come. In order to achieve this mission, our commitment to perfection in teaching and close collaboration with the industry have been our guide. The accomplishments of our graduates show the School's philosophy in education has met industries' expectations and gained a merited confidence. ...more...
Sincerely,
Kamer Rodoplu
Director
School of Applied Technology and Management